National Competition Draws - 2005-06
Monday 05 September 2005By ESFA Office
Last Updated:
13/11/2010 16:03:44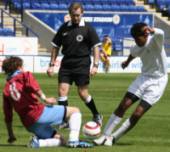 Healing and Whitgift youngsters battle it out for possession in the final of last season's U14 Schools' Cup at Leicester City FC
Today the National Competitions Department has officially released the draws for the early rounds of the English Schools? Football Association's National Competitions. No doubt, everyone involved, teachers, players, parents and friends, will be anxious to discover who their teams have drawn.
Participating in these competitions gives our young players the opportunity to develop in an educational environment by competing against teams and players they would not normally get the chance to play against. Inevitably, players will experience the highs and lows of "Knockout" Cup Football. However, we hope that they will learn important lessons, such as sportsmanship and fair play, that is usually synonymous with schools? football as they strive to become National Champions.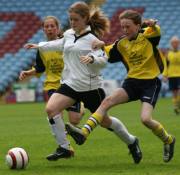 St Bernard's (Essex - White Shirts)
will be hoping to repeat their
success after winning the
U13 Coca Cola Cup
for Girls at Aston Villa last season
Once again, a large number of entries has been received by the English Schools' FA in all its national competitions, confirming that football is as popular as ever within our schools. Almost 1000 schools will participate in the U14 Schools? Cup for Boys and an impressive 500 Schools in the inaugural season of the U14 Schools? Cup for Girls. An increase in entries has been received in the U18 Schools? Trophy with 568 entries, while the U18 Colleges? Trophy has attracted just under 150 entries.
Some of last seasons's ESFA National Finals were played at prestigious venues such as Aston Villa, Charlton Athletic, Leicester City, West Ham United, Bolton Wanderers and Reading
Archived News
Seasons
Season 2005-2006
September 2005
05th :: National Competition Draws - 2005-06