U15 Inter Association Trophy Draw
Wednesday 06 July 2005By ESFA Office
Last Updated:
13/11/2010 16:03:43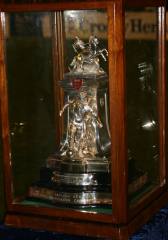 The original 'Shield' was
replaced by the 'Trophy'
(above) in 1937-38
The draw for the 2005-06 English Schools' FA U15 Trophy was made at the weekend following the Annual General Meeting held at the Quality Hotel in Loughborough on Saturday 2 July 2005.
Note: The draw was amended to accommodate entries that were not received by the deadline date due to postal difficulties.
167 Associations will participate in the trophy that will be sponsored by the National Union of Teachers for a second season.
This will be the 95th time the Trophy has been competed for after the competition started way back in 1905. It has been contested every year since, except during the period of 1940-1945. The first ever winners of this competition, which was known as the Shield back then, were London Schools who overcame Sheffield Schools 3-2, with two goals from Hope and one from Holloway.
The original Shield was replaced by the Trophy in 1937-38. The last winners of the Shield were Liverpool Schools in 1936-37 after beating Blyth 1-0 with a goal from McDonald infront of 11,000 at Croft Park, Blyth.