Competition Entries for Season 2005-06
Wednesday 29 June 2005By ESFA Office
Last Updated:
10/02/2021 11:49:00
Deadline Extended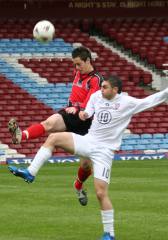 Barking Abbey and St John Fisher
youngters battle for possession
in the U18 Schools' Trophy Final
at West Ham Utd this season
The deadline for accepting entries into English Schools' FA National Competitions for Season 2005-06 has been extended until Friday 15 July 2005.
Many schools have reported a 'non-receipt' of the entry form that was originally sent out five weeks' ago. As a consequence, the ESFA Competitions Committee has agreed to extend the deadline to the above date.
Teachers are asked to give their pupils the opportunity and experience of meeting and playing against schools they would not normally encounter.
Last season saw national finals played at prestigous Football League and Premier League stadiums, such as Aston Villa, Leicester City, Crystal Palace, West Ham, Charlton Athletic, Bolton Wanderers, Middlesbrough, Southampton amongst many others.
Only teachers in charge of school teams are permitted to enter a school / college team.