England 2-0 Finland
Thursday 07 April 2005By ESFA Office
Last Updated:
10/02/2021 11:49:00

England U18
Schoolboys
Team Manager
Peter Chisholm
England U18 Schoolboys produced a convincing display last night to overcome Finland in front of a record crowd of 2986 at St George?s Park, home to Newport FC (IOW).
Goals from Captain Yan Klukowski (Sheldon School & Wiltshire Schools) and Darren Mullings (Filton College), secured victory in an impressive display, that no doubt will have pleased team manager, Peter Chisholm.
The match was the showcase event at this year?s Isle of Wight Easter Festival for Under 14 District Representative Teams. Any District Schools' FAs that would like to express an interest in attending next year?s event can contact the ESFA Headquarters for further information.
England Schoolboys will now travel to Shanghai for an end of season trip to take on China between 26 April and 03 May.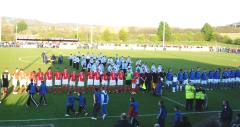 England and Finland line-up for the presentation
and national anthems before kick-off