Launch of E.S.F.A's centenary
Friday 30 January 2004By ESFA Office
Last Updated:
10/02/2021 11:48:59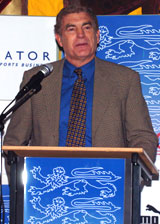 Chief Guest - Trevor Brooking
The ESFA's Centenary was officially launched on Thursday 15th January at Godwin Junior School in East London.
Chief Guest was the FA's newly appointed Director of Football Development, Trevor Brooking, who spoke of his commitment to grassroots football and in particular of his wish to see more work done in primary schools to develop the skills of young people involved in football.
Trevor was an ESFA Under 15 international in 1964, when he represented England against West Germany. More recently, he has been a great support of the ESFA through his work with our primary school 6-a-side competition.
The Chairman of the ESFA, Phil Harding, officially launched the Centenary, stating that the Association is keen to look forward. Speaking on a theme that school football is for everybody, he reminded an invited audience of schools' football representatives and media that the ESFA had enjoyed a very successful hundred years. It faced a bright future, with over 250,000 young people now involved on a regular basis in its activities.