Festivals - Isle of Wight
Isle of Wight U13 & U14 District Festival April 2015
Last Updated:
09/06/2017 12:52:37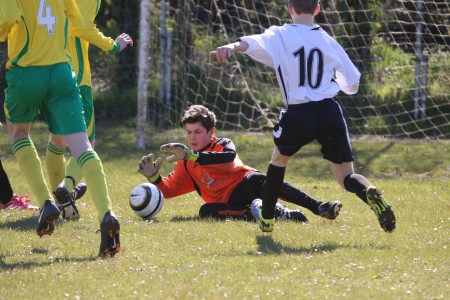 The ESFA are holding the Easter Under 13 and Under 14 District Festival in 2015. The venue is the PGL Centre at Little Canada, Wootton Creek, Isle of Wight. The Festival will run from Easter Monday 6 to Friday 10 April 2015.
Festival football! What a superb concept and a brilliant way to take part in this great game of ours. The opportunity to take part in a good standard of football where the result is really immaterial does not come along very often. Everyone wants to play the game well and come out on top but the opportunity to take every game as a 'one off' where one result does not impact on another should allow young players to have the freedom to express themselves without fear of making a critical mistake.
The teams will play 4 matches - one each day (Tuesday, Wednesday & Thursday) with the final matches taking place on the morning of Friday 10 April.
The PGL Little Canada Centre has amongst its excellent facilities an indoor swimming pool, a sports hall, a climbing wall, abseiling tower and other activities (eg: zip wire, quad bikes) which can be used on a timetabling basis with PGL staff supervision.
The package also includes:
Full Board from Monday Dinner until Friday Breakfast
En-suite accommodation in multiple single bunks for players, adult single, twin & some double bedded rooms
Ferry charges for vehicles and passengers to and from the Island
One Evening Bowling at Ryde Superbowl
One Evening at Newport Cineworld
For more information please contact Dawn Howard, ESFA HQ. 01785 785970 or email dawn.howard@schoolsfa.com
FIXTURES ISLE OF WIGHT 2015
TUESDAY 7 APRIL 10.15 AM
U14 - Derby v Yeovil at Medina School
U14 - Gosport & Fareham v West Cornwall at Ryde Saints FC
U14 - Tameside v West Cornwall at Isle of Wight Com Club
U13 - North Somerset v Havant at Seaview FC
U13 - Bridgwater v Newham at Shanklin FC
TUESDAY 7 APRIL 3 PM
U14 – North Somerset v Vale of White Horse at Brading FC
U14 - Coventry v Bridgwater at Medina School
U13 - West Cornwall v Yeovil at Newchurch FC
WEDNESDAY 8 APRIL 10.15 AM
U14 - Coventry v Yeovil at Newchurch FC
U14 - Tameside v Vale of White Horse at Shanklin FC
U14 - Derby v Bridgwater at Cowes FC
U14 - West Cornwall v North Somerset at Newport FC
U14 - Havant v Plymouth at Seaview FC
U13 - Bridgwater v Gosport & Fareham at Ryde Saints FC FC
WEDNESDAY 8 APRIL 3 PM
U13 – Yeovil v Newham at Isle of Wight Com Club
U13 - West Cornwall v North Somerset at Medina School
THURSDAY 9 APRIL 10.15 AM
U14 - Gosport & Fareham v Tameside at Newport FC
U13 - Yeovil v Havant at Medina School
U13 - West Cornwall v Newham at Ryde Saints FC
U13 - Bridgwater v North Somerset at Shanklin FC
THURSDAY 9 APRIL 3 PM
U14 - Vale of White Horse v Yeovil at Isle of Wight Com Club
U14 - West Cornwall v Bridgwater at Brading FC
U14 - Derby v North Somerset at Newchurch FC
U14 - Coventry v Plymouth at Seaview FC
FRIDAY 10 APRIL 10.15 AM
U14 - West Cornwall v Yeovil at Newchurch FC
U14 - Derby v Vale of Wight Horse at Ryde Saints FC
U14 - Plymouth v Bridgwater at Newport FC
U14 - Coventry v North Somerset at Isle of Wight Com Club
U13 - Newham v North Somerset at Seaview FC
U13 - Bridgwater v West Cornwall at Medina School
U13/U14 - Tameside v Yeovil at Brading FC