U13 Minute Maid Boys' Cup Final Report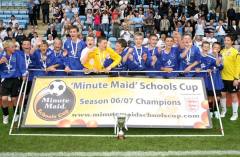 Boys' Minute Maid Cup Champs: Walbottle
The Ricoh Arena, Coventry City FC, Tuesday 22 May 2007
Walbottle Campus (Newcastle) 3 Glyn Technology School (Ewell) 2 after extra time
Maybe the FA Cup didn't provide sparkle or goals on Saturday afternoon, but the National Finals of the Minute Maid Schools' Cup at the Ricoh Arena, home to Coventry City FC, certainly did!
Walbottle Campus and Glyn Technology School clashed in the National Finals of this season's competition, the largest 11-a-side schools' football tournament in Europe.

Walbottle and Glyn youngsters battle it out
The opening period of the game was very evenly balanced with both teams showing they were capable of being dangerous on the break. As the half wore on it was Walbottle who started to stamp their authority on the game with captain Ben Sayer pulling the strings in the middle of the pitch.
Ten minutes in and a great chance fell for Walbottle to open the scoring when the ball deflected into the path of Ben Gabrial but he was found lacking in composure and fired straight at the Glyn keeper from 10 yards.
With ten minutes remaining in the opening half Walbottle failed to convert another great chance when the ball broke to David Luke after Sayer won the bounce of the ball. It looked like the midfielder was going to pick his spot but his effort flew inches wide.
It was looking increasingly like Walbottle were going to be frustrated and be held at half time as they failed to convert numerous opportunities. And they would have been thinking 'today just wasn't going to be their day' when a break by the impressive Alex Brister ended with Walbottle centre half Lance McGlen pulling him down inside the penalty area and a spot kick being awarded.
There were no complaints from Walbottle and up stepped Glyn fullback Jamie Backshall to convert confidently from 12 yards tucking the ball beautifully into the bottom left hand corner.
That was the way it stayed at the interval, Glyn had ridden their luck at times but took their chance when it came whilst Walbottle continued to falter in the final third.
However, there were still at least thirty minutes to be played and plenty of time for things to change. With eight minutes on the clock in the second period the game was back in the balance when Dennis Knight played in right winger Sam Norris but his effort was tipped round the post by Joss Newman in the Glyn goal.
Knight took the resulting corner with his trusty left foot to get the inswinger and inswing it did, right over Newman's head into the bottom corner. Knight had scored direct from the corner kick and the match was level.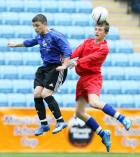 Glyn youngster wins this battle
It was game on but Glyn had gained in confidence from the first half and were giving as good as they got. Five minutes after the equaliser they won a corner of their own and the ball fell to Christopher Evans who looked as if he was going to regain the lead for Glyn but fired his effort over the bar from 7 yards.
Walbottle then surged up field with the ball eventually worked out to Knight on the left. The striker cut back inside onto his left foot before drilling the ball past Newman into the bottom right hand corner for his double and Walbottle's second of the game to give them the lead for the first time.
The Newcastle side almost sealed their victory with a Sam Norris headed effort but the right winger saw his effort bounce back off the bar before being cleared.
Walbottle had visibly gained in confidence but Glyn continued to work hard to battle back into the game.
This hard work paid off with four minutes remaining in the match when a corner from Ben Sutton was met by the head of Evans. It was deflected into the air by Lee Wall in the Walbottle goal but only as far as Jake Tyson who provided the sucker punch to knock the ball home from three yards to take the game into extra time.
Both teams were full of confidence and really going for it with chances created at both ends. And the breakthrough came right on the stroke of half time when the ball was played into the feet of Knight on the edge of the 18 yard line. He then dipped his shoulder, turned his marker and fired a stunning shot over the head of the Glyn keeper into the back of the net to send the rest of his team and the fans in the stands into raptures.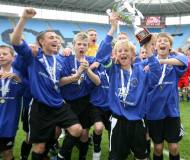 The colour is blue - Walbottle lift Cup
Walbottle duly played out the remaining period of extra time to become Minute Maid Schools' National Champions 2006-07.
Rob Draper, coach of Walbottle Campus, was ecstatic at his team's performance to become National Champions, commenting:
"The game today was extremely thrilling. It was a very close between two sides who were doing all they could to win. Overall I think Walbottle just edged it and deserved the victory through the goals of Dennis Knight, who turned in an accomplished individual performance.
"The tournament for us started back in September with a 160-mile round trip to Tweedmouth and the boys have gone on and won a lot of games. As the standard of tournament became more challenging through the County Final and Regional Cups, we became better as a team and rose to the challenge against the better teams we played. Overall it has been a really exciting and thrilling ride to the finals of this tournament, playing in the 3 big stadiums over the last month has been an excellent experience.
"We're all very proud of this team, it is a magnificent achievement to win the National Finals. All the staff and pupils at the school have worked really hard over the last few months and everyone at the school has given us magnificent support, including the supporters here today."

Proud! Walbottle player shows off Cup
Hat-trick hero Dennis Knight was proud of his side's achievements, "It was great to score the three goals and the team has done so well. To win the biggest schools' tournament in England is an amazing achievement."
And Glyn Technology School's coach Iain Kilpatrick could not be too downhearted in defeat, adding:
"What a fantastic game of football. My boys gave absolutely everything. I am so very proud of them as is the whole school. To win 3 cups and be National Schools' runners-up in just one season is an amazing achievement!"
Squads
Walbottle Campus
Lee Wall; Dean Thompson; Nathan Johnstone; Lance McGlen; Lewis Exley; Sam Norris; Ben Sayer; David Luke; Liam McNamara; Dennis Knight; Liam Stevenson; Connor Higgins; Ben Gabrial; Lewis Howlett; Reece McDonald
Coach: Rob Draper
Glyn Technology School
Joss Newman; Jamie Backshall; Ben Sutton; Elliott Wood; Xander Green; Christopher Evans; Charlie Bridges; Alex Brister; Robert Thompson; Lewis Hirst; Karl Bristoll; Elliot Nelmes; Anwar Tawfik; Harrison Williams; Jay Thrussell; Jake Tyson
Coach: Iain Kilpatrick
To view more reports and stories on the ESFA Minute Maid Schools' Cup, please visit the tournament's new media partner the Daily Mail Online
ESFA 25 May 2007
May 2007 News
25th :: U12 E.ON National Cup Finals
Boys - Indoor 5-a-side Final Riddlesdown School (Croydon SFA) 3 Canford Heath School (Poole & East Dorset SFA) 0 Competition Results Girls - Indoor 5-a-side Final Parkside Middle School (South Northumberland

23rd :: U13 Minute Maid Girls' Cup Final Report
The Ricoh Arena, Coventry City FC Tuesday May 22 2007 Girls: Tideway School (Sussex) 3 Ormskirk School (Lancashire) 1 For the second consecutive year Coventry City's Ricoh Arena played host to the National Finals of the Minute Maid Schools'

22nd :: U13 Minute Maid Cup Finals Preview
On the eve of the UEFA Champions League Final in Athens, England's best young footballers will be challenging for their own glory in the National Finals of Europe's largest 11-a-side schools' tournament , the Minute Maid Schools' Cup.

20th :: U16 FAPL Final: Devon 4-1 Durham
Devon Schools' FA successfully defended the ESFA U16 Inter County Trophy this afternoon as they overcame a spirited Durham side, 4-1.

17th :: Ravens Wood 'spot-on' at Anfield
All Saints (Knowsley SFA) 1 Ravens Wood (Bromley SFA) 1 after extra time - Ravens Wood won 5-4 on penalties Zak Riley, the 'home' team skipper, opened the scoring after 30 minutes with a superb thunderbolt from 25 yards that nestled into

17th :: U16 Royal Air Force Cup Finals
Thursday 10 May 2007 City of Manchester Stadium, Manchester City FC Girls' Final: Church Stretton School ( Shropshire CSFA) 6 Katharine Lady Berkeley's School (Gloucs CSFA) 1 Church Stretton won with ease and by the

17th :: U18 FA Premier League Trophy Final
Northumberland 1 Sussex 3 Friday 11 May 2007 Britannia Stadium, Stoke City FC This keenly contested final was played on an excellent surface provided by Stoke City FC.

17th :: U12 Boys Final: Glyn 1 Malet Lambert 2
09th :: Monkseaton successfully defend Trophy
Monkseaton (Northumberland) 4 Millfield (Somerset) 0 Monkseaton?s defence of the ESFA U18 Schools? Trophy was complete this afternoon, with a convincing 4-0 scoreline at Barnsley Football Club?s Oakwell Stadium.

05th :: International Result: England 3-3 Wales
Spectators at Wolverhampton Wanderers were treated to a goal feast last night as England's U18 Schoolboys drew 3-3 against Wales.

04th :: Worksop lift Trophy after thriller
Poole & East Dorset 2 Worksop & Retford 3 Worksop won 5-4 on aggregate After a first leg of nearly 40 attempts on goal had ended at Worksop in a 2-2 draw, both teams started the second leg at AFC Bournemouth with everything to play

02nd :: Lancaster win U18 Colleges' Trophy
A hatrick from Aaron Taylor ensured that Lancaster & Morecambe were crowned champions of the U18 Colleges' Trophy this afternoon at Rotherham United Football Club.