England Needs You!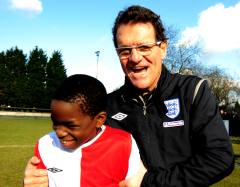 England Boss Fabio Capello
Fabio Capello and his England team fire up fans to Get Into Coaching Fabio Capello's England stars Ashley Cole, Michael Carrick, James Milner, Matthew Upson and Rob Green have come together to pay an emotional tribute to the coaches that inspired their first steps in football as part of a series of six exclusive behind the scenes videos filmed by The FA.
Recognising the unsung heroes of their early careers, each of the current England internationals recall the important role their first coach played. Among the coaches picked out for praise, Ashley Cole reflects on his first mentor John Chapman and Michael Carrick remembers Ken Richardson and Alan Tring, whose advice in the early stages of his career is still ingrained.
Launched during the countdown to England's FIFA World Cupô campaign, the films provide an inspirational call for the nation to play their part in the national game by becoming a coach and developing a future generation of England players. Rob Green, West Ham and England goalkeeper, comments on his dad's own commitment to coaching. He said: "My first coach was my dad. He was the coach of our local Sunday League team and got his FA coaching badges to extend his knowledge of the game and learned how to make training interesting for the team."
Featuring seas of red and white England fans at Wembley, exciting match highlights and film footage of the England stars coaching young players, the new films have been produced to encourage football fans and parents to take The FA's Youth Award. This groundbreaking new course has been designed to help coaches fully understand young player's technical and motivational requirements and instil the importance of encouraging creative play and how to set up the best possible environment for players to practise and develop.
Fabio Capello shares the players praise of our current coaches and comments: "I am lucky to work here, for this country, for the passion of the fans and I appreciate the great work coaches do with young players and children. For me it's a mission."
He adds: "We have to work together, to play together, to get the spirit of the team. You can win and you can lose, but it's really important for coaches to help young players to enjoy the football."
Stuart Pearce, coach of England's U21s, said: "The really great thing about being a coach is seeing that improvement in players, seeing them being coached during the week and putting that into practise in a game. What better time to get more quality coaches into football than when the nation is inspired by England competing in the FIFA World Cupô.
The FA Youth Award receives the full support of Fabio Capello and the England team who want fans, players and parents to take their first steps into coaching this summer."
To watch the Fabio Capello and England players Get Into Coaching films and to find out more about The FA Youth Award visit www.TheFA.com/Coaches
ESFA 24 Jun 2010
June 2010 News
24th :: John Robson receives Life Membership
The English Schools' FA recently conferred Life Membership of the Association upon John Robson for his many years of voluntary service rendered to the English Schools' FA and Durham County Schools' FA.

24th :: Jeff Smith Awarded Life Membership
The English Schools' FA conferred Life Membership of the Association upon Jeff Smith for his many years of voluntary service rendered to Cheshire County Schools' FA.

22nd :: FA Learning: Want to learn more about football?
The modern game of football is changing. Players are quicker, stronger and more creative.

22nd :: ESFA Council for Season 2010-2011
Following the 2010 English Schools' FA Annual General Meeting, we can now confirm the following members of Council for Season 2010-2011: Chairman: Mike Coyne Vice Chairman: John Appleby North East: Alan Pont (Northumberland CSFA)

21st :: Annual General Meeting 2010
The 2010 Annual General Meeting was held at the Beacon International Centre in Stafford, on Saturday 19 June.

02nd :: England Football Day: Saturday 12 June 2010
England Football Day has been created for schools, clubs, teams, players and volunteers around the country to play, coach and celebrate football.