Fallenhero Trophy: England 2-4 France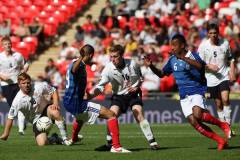 England and France battle it out
England hosted France on a scorching hot day at Wembley Stadium on Saturday 13 June in front of 9,073 spectators and was televised live on Setanta Sports.
France took a 17th minute lead when Yannis Tafer cleverly lobbed home from Sebastien Faure's long through pass.
England levelled on 32 minutes when Faure's back pass was missed by France keeper Jonathan Ligali and rolled into the goal.
France missed a great chance to go back ahead on 48 minutes when Cedric Bakumbu went through one-on-one. England keeper Tom Pass saved his first shot before Bakumbu shot the rebound against the post from six yards.
England made them pay three minutes later when they went ahead. Sussex CSFA and St Bede's School striker, James Norwood, crashed the ball home from ten yards to make it 2-1 after France keeper Ligali only half punched clear a cross.
Tafer netted his second after an excellent passing move to level on 55 minutes and he completed his hat-trick three minutes later when he volleyed home, via a deflection off Robert Carter, from Giles Sunu's cross.
France moved 4-2 ahead on 64 minutes when Plaisir Bahamboula raced clear down the left and fired home across Pass into the far corner.
English Schools' FA Chairman, Stuart Inger, and Sir Trevor Brooking presented the Fallenhero Trophy to the French Captain Gueida Fofana at full time.
Team Line Ups
England: Tom Pass (GK), Matthew Tasker, Robert Carter, James Libby (Captain), Joe Clayton, David Wheeler, Simon Johnson, Jacob Baptista, Matthew Whitehead, David Knight, Taylor Morgan. Subs: Steven Norris (GK), Danny Watson, James Norwood, Nick Hancock, Michael Scott, James Ellis.
France: Jonathan Ligali, Thomas Honconduit, Sebastien Faure, Gueida Fofana (Captain), Yannis Tafer, Gilles Sunu, Yannis Salibur, Johan Martial, Quentin Rouger, Francis Coquelin, Gaetan Bussman. Subs: Benjamin Leconte, Vincent Sasso, Jean-Yves Capasso, Loic Damour, Plaisir Bahamamboula, Cedric Bakumbu, Chris Mavinga.
Match Officials
Referee: Steve Bennett (Kent)
Assistants: Rob Lewis (Shropshire) and Roger Vaughan (Somerset)
Fourth Official: Paul Armstrong (Berkshire)
Photos courtesy of www.rwt-photography.co.uk

ESFA 26 Jun 2009
June 2009 News
26th :: National Competition Entry Form - Season 2009-10
The English Schools' FA is still accepting entries into next season's National Schools' Competitions - download form.

17th :: England v France Match Programmes for sale!
There are still a limited number of match programmes available for purchase from the Under 18 Schoolboy International between England and France that was played at Wembley Stadium on Saturday 13 June 2009.

12th :: French Squad Announced
The French Football Federation has announced the squad that will take on the England U18 Schoolboys team at Wembley Stadium on Saturday 13 June, kick-off 3.00 pm.

04th :: Steve Bennett to Referee Schoolboy International
The English Schools' FA are delighted to announce that Premier League Official, Steve Bennett, will Referee the forthcoming U18 Schoolboy International, England v France, at Wembley Stadium on Saturday 13 June 2009.

02nd :: Annual General Meeting 2009
The ESFA Annual General Meeting will be held on Saturday 20 June 2009 at the Beacon International Centre, Stafford, commencing at 11.00 am.