Meet the new Chairman - Nigel Brown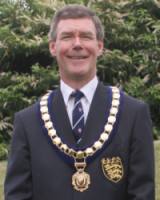 ESFA Chairman - Nigel Brown
Nigel Brown became the latest Chairman of the English Schools' FA at the 2006 English Schools' FA Annual General Meeting, held at the Forest Pines Hotel, near Brigg in Humberside.
For those of you who don't know Nigel, here is a brief account of his life story to date.
Nigel has always been passionate about football, but one has to be as a supporter of Manchester City. Nigel could be seen playing football from a very early age in the streets and parks of Cheadle (then in the county of Cheshire). In fact, he sustained his first football injury at the age of three when trying to kick a football as big as himself.
He was immensely proud to play for his county primary school and still remembers with fond memories being allowed to blow up the old leather football used for matches. Nigel passed the 11+ examination and went on to Moseley Hall County Grammar School. Although very pleased to have obtained the place, he found out to his horror that they only played rugby union.
Not to be put off, Nigel continued playing football out of school and played rugby for the school team on Saturday mornings. A sports fanatic (his wife Carol's words), Nigel was good enough to represent Cheshire in both cricket and football while still at school, having finally been allowed to play football in the fifth year. The school produced several County players including Steve Heighway, (Liverpool) and Andy Ritchie (Manchester United).
Having passed his A levels Nigel went on to Manchester University to read Modern History, Economics and Politics. While at University he played football and started playing senior football in the local northern amateur leagues. One his friends and team mates Colin Barratt went onto play for Manchester City and Nottingham Forest.
After graduating with a B.A. Joint Honours Nigel took a PGCE at the same university so that he could continue playing cricket and football in the northern leagues. In 1974 he took up his first teaching appointment and is currently Head of History and Head of Careers Education and Guidance at North Cestrian Grammar School, Altrincham. He was soon running tennis, cricket and football teams and his expertise was spotted by Trafford Schools' F.A. and then Greater Manchester County Schools' F.A.
A successful period of coaching and managing teams at Association and County level culminated with ESFA national victories for Greater Manchester County Schools at Under 19 level in 1983 and 1990. The latter victory was against a very strong Northumberland team containing Alan Thompson (Celtic), Robbie Elliot (Newcastle), Steve Watson (West Bromwich) and Graham Fenton (ex-Aston Villa).
Nigel regularly took his County team to the Under 19 Easter Festivals at Skegness and Morecambe. During this period he completed his coaching qualifications and also worked for Manchester County FA as a coach. Nigel is very proud that several players he worked with became professionals including Ryan Giggs (Manchester United), Phil Neville (Everton), Alan Wright (Aston Villa) Phil Whelan (Middlesborough) Nicky Butt (Newcastle) and Ben Thornley (Manchester United).
In the early 1990s Nigel worked with the ESFA England under 18 squad at Lilleshall and finally joined the Council in 1996 after serving on the Greater Manchester County Schools` Council from 1978 and being Vice-Chairman (1989-90) and Chairman (1990-91) of that Association. To mark his national honour in schools` football the County has elected him as their Chairman for the second time this year.
In addition to this busy sporting schedule he still found time to complete a Masters degree in Education. During his years on Council, Nigel has chaired several committees including Coaching, Girls' football, Under 18 selection and the International Committee. Although working mainly with post 16 football, Nigel has not forgotten the younger age groups and regularly runs the primary Under 11 tournaments in the North.
Nigel has had great support from his colleagues and headmaster at North Cestrian, but he could not have done this work without the help and support of his family, in particular his wife Carol who has already accompanied him on many occasions during his Vice-Chairman's year in 2005-2006.
Nigel feels very honoured to be Chairman of the Association and greatly appreciates all the work done by colleagues throughout the country. Without the support and help of schoolteachers, both actively employed and retired, who give of their time freely the association would not flourish. He hopes that everyone has a thoroughly enjoyable 2006-2007 season and looks forward to seeing many colleagues on his travels.
ESFA 22 Aug 2006
August 2006 News
22nd :: Schoolboy Match: England v China
This week marks a new era in Anglo-Chinese relations with the arrival in England of the Chinese Schoolboys Under 18 football team.