U14 County Boys' Final: Merseyside 3-1 Essex CSFA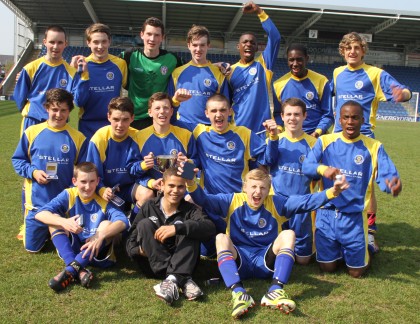 Merseyside celebrate victory
Merseyside CSFA were crowned champions of the ESFA Under 14 Inter County Trophy for Boys following their victory over Essex CSFA at Chesterfield Football Club's B2Net Stadium on Monday 21 May 2012. A good start to the county game and without Merseyside getting a composed foot on the ball, Essex were 1-0 up after Abel Okoghenu lashed home a shot which fell to him via a deflected free-kick at the top of the box.
The game opened up for both teams, with attacking moves sweeping from end to end hoping to penetrate. Both sides stood strong, although Merseyside were gaining momentum winning corner after corner, to keep the pressure mounting. None of their set pieces were able to find a way through until Jay Bradford popped up at the back post and powered a header into the back of the net levelling up the game.
As the game moved on, both teams had significant chances, with the goalkeepers taking the spotlight.
After a huge clearance from Kyle Juniper, the lack of communication was apparent as defender Luke Burke and goalkeeper Callum Mulby collided in a defensive mix up, leaving the chance for an open goal, with only the great defensive work of the covering defender saving the day. Kyle Juniper did well when called into action, saving with a strong hand after Jay Bradford turned and snapped a shot towards him after another corner.
A few minutes later it was Merseyside goalkeeper Callum Mulby in the thick of it again, as Essex's John Massala caused problems with his relentless running, he charged down an attempted goalkeeper clearance and improvising with an overhead kick, missed by only a few inches.
There was one more good goal-scoring chance for each side just before half time, with Merseyside's Semuel Llesanmi unable to sort his balance out and hitting a tame effort straight at the keeper, and Essex no. 10 Sonny Shilling flicking a free kick goal-wards but into the hands of the Merseyside keeper. The Score remained delicately poised at 1-1 at half time.
Both teams were fighting hard with some strong tackles flying in from both sides, Merseyside had a breakaway which was smothered by the Essex keeper.
A few minutes later Merseyside took the initiative, and after a great interception from defender Jay Hunter, he linked up well with Jay Bradford, starting an underlapping run around the forward to pull the Essex defence out of shape, as the defender was drawn towards him, he released Samuel Llesanmi who was now in a few yards of open space and used it well, firing the ball into the back of the net.
2-1 to Merseyside, and they could have added another a minute later through lively forward Jay Bradford, although he had one eye on avoiding the back post as a delicious cross was whipped into the far post area, he couldn't make full contact and the ball flew wide left and out for a goal kick.
Essex pushed back and tried to control the game and find an equaliser to take the game to extra time, and the closest they came was a low shot from Mohamed Ali as he broke past the defence, only to have it saved by the keeper.
Merseyside took advantage of the Essex high pressure and caught them on the counter-attack with Llesanmi latching onto a through-ball to grab his second of the game and Merseyside's third.
With that goal they sealed the tie, and took the National Championship title for 2011-2012.
View U14 Inter County Trophy Boys' Results 2012
A match DVD and photographs can be purchased via www.rwt-photgraphy.co.uk

ESFA 29 May 2012
May 2012 News
28th :: U13 Girls' Schools' Final: Warden Park 1-3 Stratford
Warden Park went ahead early in the game held at the B2Net stadium, home to Chesterfield Football Club, on Monday 21 May, after some early pressure from Stratford Upon Avon.

25th :: Essex CSFA win Girls Under 14 Inter County Trophy
By Robert Craven at Essex County Football Association Essex Schools' Under 14 Girls side recovered after conceding an early goal to claim the English Schools FA Under 14 Inter County Trophy with a 2-1 win over Lancashire Schools at Norwich City FC,

24th :: U12 Danone Cup Final: Forest Hill 2-1 Malet Lambert
Forest Hill School (Blackheath Schools' FA) were crowned champions of the ESFA Danone Nations Cup on Friday 18 May, after they defeated Malet Lambert School (Kingston Upon Hull SFA), 2-1, at Chelsea Football Club.

24th :: U11 Tesco Small Schools' Final: St Aidan's 3-1 Ditcheat
St Aidans Catholic Primary School (Huyton PSFA) were crowned champions of the ESFA Tesco U11 Small Schools' Soccer Sevens on Saturday 19 May, after they defeated Ditcheat Primary School (Mid Somerset SFA), 3-1, in the tournament final which was

24th :: U11 Tesco Girls' Cup Final: St Francis 0-3 Broadstone
Broadstone Middle School (Poole & East Dorset SFA) were crowned champions of the ESFA Tesco U11 7-a-side Schools' Cup for Girls on Saturday 19 May, after they defeated St Francis Primary School (Maidstone PSFA), 3-0, in the tournament final

23rd :: U11 Tesco Schools' Cup Final: Victoria 0-2 Gladstone
Gladstone Primary School (Stoke on Trent Primary Schools' FA) were crowned champions of the ESFA Tesco U11 7-a-side Schools' Cup for School Teams on Saturday 19 May, after they defeated Victoria College (Jersey Primary Schools' FA)

22nd :: U13 Boys' Cup Final: Sandwell 4-2 Hove Park
The game started at a high tempo with 2 goals in quick succession. The first by Sandwell Academy's Yan Dhanda, who had a free kick on the outside of the area.

14th :: U14 Premier League Cup: Cardinal Heenan 1-0 Bishop Challoner
Cardinal Heenan SC (Liverpool SFA) 1 Bishop Challoner SC (Hackney and Tower Hamlets SFA) 0 In a very closely fought encounter at Sunderland's Stadium of Light, Cardinal Heenan U14's continued their two year unbeaten run in ESFA National

11th :: U13 District Trophy: Liverpool 3-0 South London
On a damp and overcast Friday afternoon South London and Liverpool Under 13 teams were the guests of Crystal Palace Football Club as they played out their Inter Association National Final at Selhurst Park in front of several hundred enthusiastic supporters.

11th :: Hampshire U16 Girls win on Penalties at Barnet FC
Thrilling game on the sloped pitch at The Underhill stadium, Barnet. Lancashire started well and pressed hard attacking down the pronounced slope in the first half at Barnet Football Club.

09th :: U18 Boys' Final: Thomas Telford 2-4 John Madejski
This year's Under 18 Schools' Trophy final was played at the Molineux, home of Wolverhampton Wanderers Football Club.

08th :: Oxfordshire CSFA win the U16 Inter County Trophy
The City Ground, home of Nottingham Forest Football Club was the venue for this year's Under 16 Inter County Trophy Final.

02nd :: U18 Boys County Final: Essex won on penalties
Essex 1-1 Merseyside (after extra time) Essex won 5-4 on penalty kicks On the first of the month these two county sides met at Nottingham Forest FC's City Ground to play for the honour of being crowned champions of this season's ESFA