Sainsbury's Super Soccer Saturday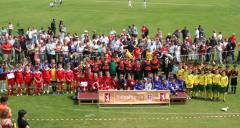 Participating teams line-up for
theOpening Ceremony at the
Sainsbury's Primary Finals
Keele University was the setting for the climax of the Primary Schools' Football calendar on Saturday 18 June. 32 teams descended on the North Staffordshire site to compete in the English Schools' FA U11 Small Sided National Finals sponsored by Sainsbury's. The four titles competed for were:
Sainsbury's U11 7-a-side Inter Association Trophy
Sainsbury's U11 7-a-side Schools' Cup for Boys
Sainsbury's U11 6-a-side Schools' Cup for Girls
Sainsbury's U11 Small Schools' Soccer Sixes
The qualifying teams made it through a rigorous season by winning local District, County and Regional tournaments for the honour of competing with the best Primary School and District teams from around the country.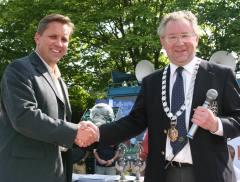 ESFA Chairman, Steve Abson (right),
greets Sainsbury's Chief Executive,
Justin King,
before this season's Primary Finals
at Keele University
Sainsbury's were on hand to offer their support as sponsors of the competitions and to promote their Active Kids campaign.
For more info on Sainsbury's Active Kids click here
7-a-side Inter Association Trophy
Group A
The first match in Group A was a tight encounter that ended goalless between Derwentside and Stoke on Trent. This meant that with Bath beating Stevenage, 1-0, thanks to a goal from Bradley Norris in the other first phase of Group A games, it meant that both the north and midland teams faced an uphill battle to be one of the two teams that would progress from the group stage for the Semi-Finals.
In the next phase of group games Derwentside managed to overcome Stevenage, 2-1, with goals coming from Lee Harrison and Kia Hewitson. Ronnie Robertson was the sole response for Steveange. Stoke also achieved three points in their second game as they overcame Bath, 2-1, with goals from Ryan Lloyd and Ryan Dawson. Bath's response was a goal from Will Oswin.
Going into the final phase of games, Bath, Derwentside and Stoke were competing to gain a place in the Semi-Finals, but only two of the teams would make it. Derwentside were the first team to make it through after dashing Bath's hopes by beating them 4-2 with Lee Harrison and Lee Dobson both scoring a brace for the North East outfit. Lee Hedges and Dave Bollinger replied for Bath. Stoke had the task of beating Stevenage who at that point were lying bottom of Group A. Stoke comfortably secured a runners-up place in the group by overcoming an under strength Stevenage team 2-0 with goals from Daniel Fenton and Brendan Daniels.
Group B
South East Cornwall set the early pace in this group after a 2-0 victory against South Shropshire. Rory Simmons and Jordan Copp were on hand to convert for the South West Regional Champions. Leeds and Newham played out a tight encounter with the score finishing 0-0 to earn each team a point.
The second phase of games saw Leeds overcome South East Cornwall 2-0, with goals from Dean Bartle and Ollie Roberts. With Leeds on 4 points and South East Cornwall on 3 points the pressure was on South Shropshire and Newham to get a winning result. Unfortunately for both teams neither could manage a goal and the score finished 0-0 at full time.
Nothing less than a win would be good enough to take Newham through against South East Cornwall, which must have made the Newham team nervous as they had yet to score a goal in the opening two games of the competition. As expected it proved to be a great game as Jordan Taylor scored for S E Cornwall, but goals from Steven Carvelle and Captain, Kenzer Lee, sent Newham through to the Semi-Finals with a 2-1 scoreline. Leeds secured a 2-1 win over South Shropshire to book their place in the Semi-Finals with Newham.
Semi-Finals
Both Semi-Finals were close affairs with Stoke needing extra time to see off Leeds thanks to a goal from Ryan Dawson. Derwentside also won 1-0 against Newham to book their place in the final with a goal from Lee Harrison. Stoke and Dewentside would now meet in the Final for a repeat of the opening game of the tournament which ended goalless.
Final: Stoke 3-2 Derwentside
A fantastic game and a great advert for Schools' Football was about to follow. Derwentside took the lead twice in the second half through Kia Hewitson only for Ryan Lloyd to equalise for Stoke on both occasions. It was going to take a moment of magic to separate the teams as the match looked like it would be heading for extra time. Daniel Fenton provided it when he popped up to strike a terrific 20 yard effort which sailed into the back of the net and in doing so secured the first national title for Stoke on Trent since the competition began back in 1994.
Peter Cheadle who coaches the team alongside Stuart Thomas said, "It's an incredible feeling because it has been a very long season, but this is fantastic for the players."
"We have had two tough qualifying competitions to get through first, we have to defend the trophy now, but it has been a superb effort."
"Everyone played well and the scored some great goals, but the team was built around a tight defence and a very solid midfield."
View 7-a-side Inter Association Trophy results and tables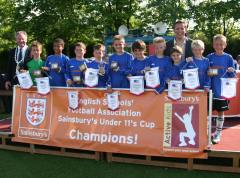 Stoke on Trent SFA receive the
U11 7-a-side Inter Association Trophy
7-a-side Schools' Trophy for Boys
Lodge Farm School (Hertfordshire) and Christ the King School (Merseyside) both progressed comfortably from Group A in this competition. Greatstone (Kent) eased through Group B by winning all three games, scoring ten goals and conceding just one in the process. Heymann (Nottinghamshire) found it a lot more difficult progressing to the Semi-Finals after winning just one and losing two of their group games. However, they managed to qualify for the next phase due to their superior goal difference.
Semi-Finals
Goals from Ben Murphy, Ryan Pincott and Reece Loudon secured a 3-1 victory for Lodge Farm over Heymann. Matthew Milnes scored a consolation for Heymann from the penalty spot.
In the other Semi-Final, Greatstone and Christ the King went into extra time after finishing 1-1 at full time with a Tom Morgan goal for Greatstone and Joe Loxham for CTK. Greatstone proved the stronger finishers in the period of extra time with a second goal from Tom Morgan and a third from Frankie Steer. Joe Loxham scored a second for CTK, but is was not enough to prevent Greatstone going through 3-2.
Final: Lodge Farm 3-0 Greatstone
The final proved to be some what of a one sided encounter as Lodge Farm ran out convincing winners with a 3-0 scoreline. Reece Loudon scored a hat-trick for the Hertfordshire outfit.
View results and tables for Boys' 7-a-side Cup here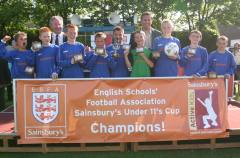 Lodge Farm School are presented with the
U11 7-a-side Schools' Cup for Boys from
Steve Abson (ESFA Chairman and
Justin King (Sainsbury's Chief Executive)
6-a-side Schools' Cup for Girls
Group A
Sarah Burns got Gosforth School (Northumberland) of to a flying start in Group A with a hat-trick against Yeo Moor (Somerset) to seal a resounding 3-0 win. Witton School of Worcestershire also got off to a winning start by beating Tollgate from Sussex by a single Lauren Whiteman goal.
A further win for Gosforth and Witton in the second phase of group matches ensured the passage through to the Semi-Finals would be a formality by the time the third game would kick-off.
Group B
It was a similar story in Group B where Ixworth School (Suffolk) started proceedings with a 3-0 win over Trinity School (West Midlands), thanks to two goals from Emily Heaslip and a brace from Captain, Charlotte Harpur. Dobcroft of South Yorkshire kicked-off their campaign with a narrow 1-0 victory over Liden School from Wiltshire.
The second phase of games saw Emily Heaslip bag another two goals for Ixworth as they overcame Liden 2-0, while Dobcroft beat Trinity by the same scoreline to ensure that Ixworth and Dobcroft would also progress to the Semi-Finals before the third phase of group games had kicked-off.
Semi-Finals
Gosforth, the winners of Group A, outclassed Dobcroft, the runners-up of Group B, with a comprehensive 3-0 victory in the semi-finals, to secure a place in the final. Similarly, Ixworth did not seem to encounter too many problems as they beat Witton 2-0 to set up what would prove to be a tense final.
Final: Gosforth 0-1 Ixworth
Both girls' teams toiled in the afternoon heat of a sun-soaked day. With both teams already having given their all to reach the final of this competition, it was always going to be a close encounter that would be settled by the odd goal. And so it proved to be, as Ixworth won this inaugural Girls' 6-a-side Cup, by a narrow 1-0 victory to take the cup back to Suffolk.
View results and tables for Girls' 6-a-side Cup here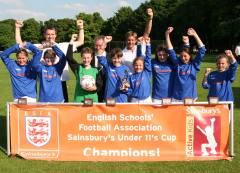 Ixworth Middle School
lift the U11 6-a-side Schools' Cup for Girls
Small Schools' Soccer Sixes
Group A
Jamie Turnball got All Saints (Durham) off to a solid start as he bagged a brace in a 2-0 win over Victoria Dock from Humberside. Probus (Cornwall) also made a positive start with a 2-1 victory over St Ippolyt's (Hertfordshire). A goal each from Luke Bradford and Adam Hadfield ensured the three points for Probus, while Austin Eaton scored the only goal for St Ippolyts.
Austin Eaton continued his good form with a hat-trick against Victoria Dock in a 3-2 win in the second phase of Group A games. Ellis Njie and an own goal were the scorers for Victoria. Luke Bradford scored a further two goals for Probus in their 2-1 win over All Saints. Jamie Turnball was on hand for the single All Saints goal.
In the third phase of Group A games Probus sealed their place in the Semi-Finals with a stylish 3-1 over Victoria Dock, thanks to goals from Luke Bradford, Robert Sheppard and Adam Hadfield. St Ippolyts cruised into the Semi-Finals with a resounding 5-0 win against All Saints. Harry Martin, Thomas Donald, Danny Gentle and a further two from Austin Eaton eased St Ippolyts through the group stage.
Group B
Kirtlington (Oxfordshire) made the other teams sit up and take note with an impressive 6-0 rout of Upchurch Holywell School from Kent in the first phase of Group B matches. Holywell were powerless to stop the attacking ability of Kirtlington who gained the three points with four goals from Captain, Josh Ruffles, and a further two goals from Dan McCall. Corpus Christi (Merseyside) ran out 2-1 winners against Minsterley (Shropshire), thanks to strikes from Joe Harrison and John Haigh. Minsterley pulled one back through Kyle Purslow.
Kirtlington continued to impress in the second phase of games with a 3-1 over Minsterley. Dan McCall and Zac McEachran with two were the goalscorers, while Kyle Purslow pulled one back Minsterley. Charlie Self scored the only goal in a 1-0 victory for Holywell against Corpus Christi.
With Kirtlington securing their place in the Semi-Finals with another comprehensive 3-0 scoreline, it was down to Holywell and Minsterley to decide who would join them in the Semi-Finals. Minsterley managed to hold their nerve with a 2-1 win and book a Semi-Final tie against Probus, the winners of Group A.
Semi-Finals
Probus squeezed through to the final after beating Minsterley on penalties. The game ended 2-2 after extra time, but Probus held their nerve to win 4-2 on penalties. Kirtlington, yet to be challenged in any serious way so far in the competition, easily overcame St Ippolyts, 4-0.
Final: Kirtlington 3-0 Probus
Kirtlington again produced another impressive display for the final, with another convincing win against Probus. Kirtlington had amassed an impressive 19 goals in 5 matches and conceded just 1. The Oxfordshire based school were worthy winners of the Small Schools' Soccer Sixes and received their trophy from ESFA Chairman, Steve Abson. Steve was an intergral part of the setting up of this competition back in 2001 after he had previously run several pilot competitions within his County, Leicestershire.
View results and tables of Small Schools Soccer 6's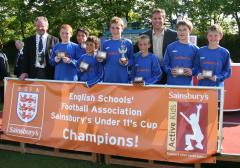 Kirtlington Primary School take the U11 Small Schools'
Soccer 6's trophy back to Oxfordshire
ESFA 22 Jun 2005
June 2005 News
01st :: Eaves Double Lifts Cup For Beck
ESFA COCA COLA U13 SCHOOLS' CUP FINAL (BOYS) Archbishop Beck (Liverpool) 2 Parmiter's (Watford) 0 Villa Park, Aston Villa FC - Friday 27 May 2005 First Half Villa Park in Birmingham was the fantastic Premiership backdrop for the