Development
FA Youth Award
How well do you know your young players?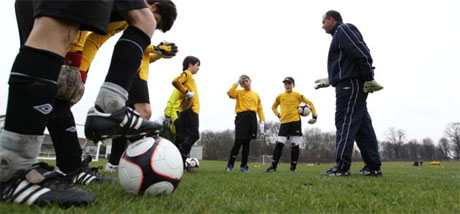 Do you really understand what motivates them, what they find difficult and how you can help to develop them?
The FA Youth Award is a ground breaking new coaching course designed to help coaches to understand as much about their players as they understand about the game.
As coaches, we often spend a lot of time focusing on training drills, fixtures and match days . Wouldn't it be great if we stepped back from all that and looked at each of our young players individually.
What motivates them to play football?
How can we build their self esteem?
How can we manage differences in age, experience, ability and attitude?
Can we create the right environment for young people to learn?
Teach them strategies for managing mistakes?
Tailor practice sessions according to age, ability, experience and maturity?
The course is split into three modules and an introductory module.
The Introductory Module
The Introductory Module for coaches with a qualified teacher status and successful completion can serve as an entry point to Module One. Coaches with a Level One certificate in Coaching Football can go straight to Module One without taking the Introductory Module.
Module One
Module One of The FA Youth Award focuses on creating the right environment for the child to learn. This was launched last year and feedback has already been very encouraging. Both grassroots and elite coaches have found the sessions highly useful for their development as youth coaches.
Module Two
Module Two has just been launched. This focuses on developing practice sessions which can be tailored according to the age, ability and experience of different young players. Initial feedback suggests this course is proving to be beneficial for coaches who want to develop their knowledge further.
Watch The FA's short film to learn more about the course.
The courses are delivered throughout the country and can be booked through your local County FA.
For more information contact your local County FA directly. To find your County FA's details, click here